Peter Ruting has been working in the past on a project called "Birthday Presents". For this project, he would invite you to become part of his art.

Two of the photograps created from the presents are presented here.

Birthday present 1
In an interview Peter Ruting told us about the project: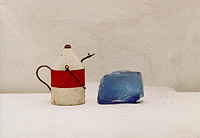 "This is the first photograph of a series of twelve which I've planned to make. Let me try to explain. From my friend Jan de Melker I got a beautiful piece of raw glass for my birthday, which he had once found in the Czech Republic. Jan knew my work and figured I would be able to do something with it.

About one year later Jan passed away and I was left with a feeling that I should do something with the glass he had given me. Then the picture emerged and consequently I got the idea for the series "Birthday Presents". Actually the oil can was a birthday present too, from my sister. I'm very grateful for the inspiration they gave me."


Birthday present 2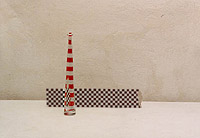 The second birthday present that inspired me I received from my youngest daughter Annelot. Though for years I hadn't made photographs of bottles, this piece was too beautiful to neglect. After finishing the delicious content, cognac, it seemed its package was more valuable. The bottle was perfect for this beautiful photograph. The black and white cardboard in the arrangement I found as part of a box in a store in Cologne.




Peter's original invitation:

I invite you...

"With the modern possibilities of Internet I have decided to present the project on this Web site, to initiate a dialogue over the Internet.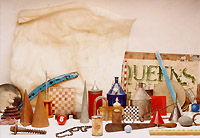 I would like to invite people from all over the world to send me presents for inspiration. It's not about objects of large value, but for example a piece of package paper from China, a coffee cup from Africa, a stone, a piece of wood, an old skittle or whatever you find in the garage, the attic, on the beach or wherever."



The reward
"The presenter, whose gift inspires me so, that the gift is used in a photograph of the series, will be rewarded with a print of the photograph including an honorable mention. It is also planned to make a 300 copy lithographic reproduction of the photograph which will be signed and numbered.

When the series is complete, I hope to publishing a book with the photos in which of course your name will be mentioned as one of the contributors; a book that will surprise the world.
You will not be surprised when I say I look forward to your present with an almost childlike excitement.

n.b.: none of the presents can be returned, and I can't take responsibility for loss, damage, etc. You give the present freely, to let me do whatever is required to make it a possible part of a composition."


Examples of presents that have arrived!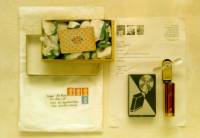 Ms. Dorner of the UK sent Peter these presents, for which he's very grateful.